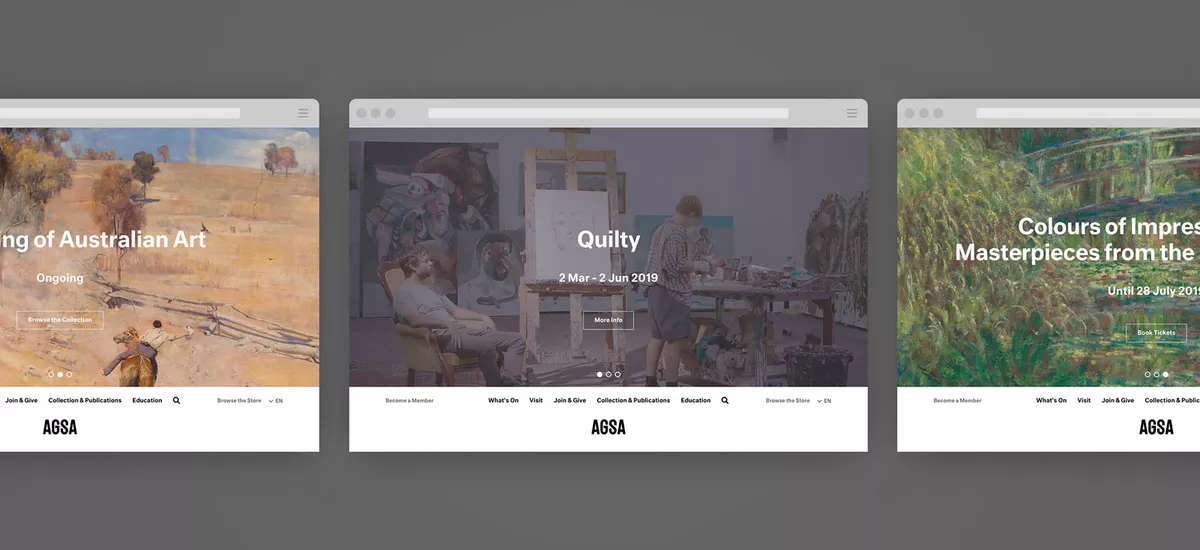 Digital transformation project: Art Gallery of South Australia's new website
Written by Dr Timothy Mansfield
Published on 19 June 2019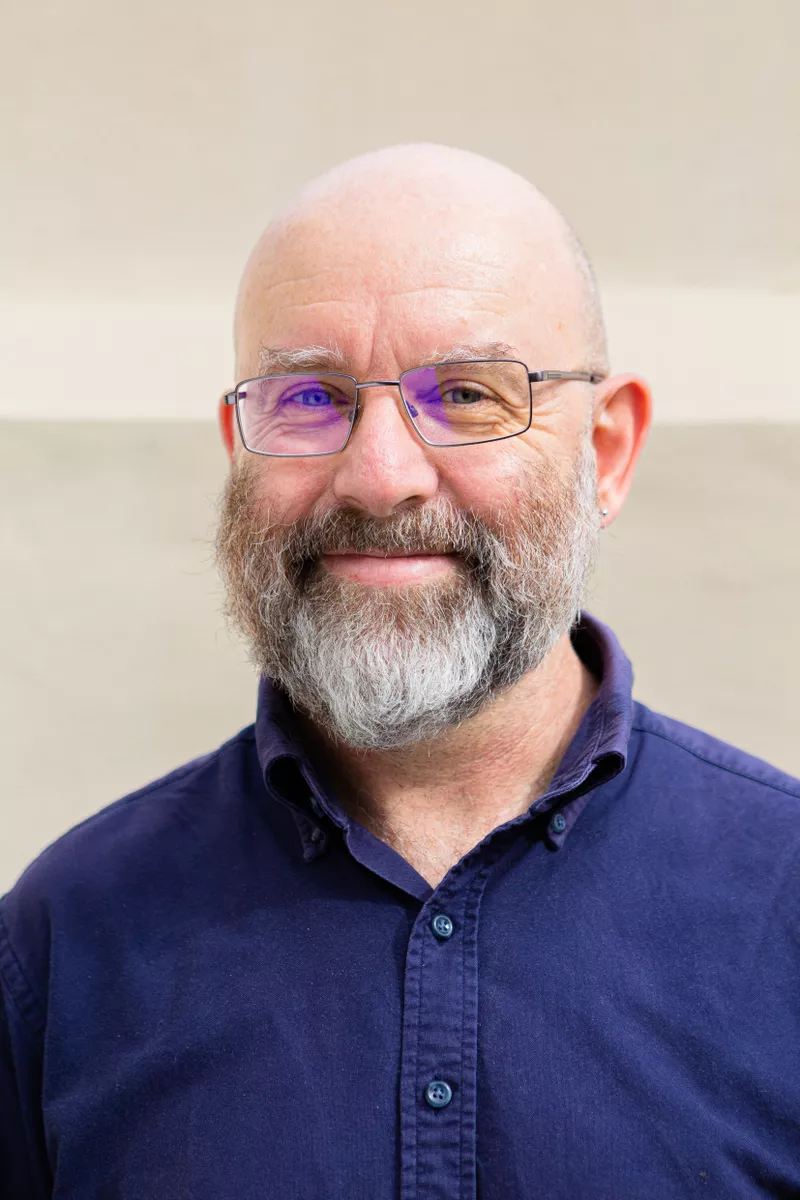 Tagged under:
Over a year ago, we started working with one of Australia's major art institutions, the Art Gallery of South Australia (AGSA), to envision and execute a digital transformation project. In an initial discovery phase, we collaborated with our colleagues Suzanne Boccalatte and Martin Ford at Boccalatte to uncover and envision what this change might mean.
Start with why
Working together with Susie Barr, Jen Geddie and Heidi Chamberlain at AGSA, we envisioned a project with three key aims:
Update the branding – including the website – for the gallery to match the exciting, contemporary place the gallery has become in the past decade.
Use newer, web-based systems to reduce how much manual work teams inside the gallery have to do.
Connect information sources within the gallery to the internet to reinforce 1 and 2.
We collaborated with Studio Ongarato (SO) on the branding and design project. SO took the lead in rethinking the branding concepts. We carried out a lean user experience investigation focused on the search and interaction needs of online visitors to feed into the branding work. We provided user personas, user journeys, an information architecture and wireframes of page types for the eventual website to the designers to resource their design work and they delivered new designs to implement the brand.
We took these designs and turned them into a responsive, mobile-first front-end build for the website.
While this was going on, we were knee-deep in collaborative investigations into the other two aims. With several teams at the gallery we discussed and prototyped implementations of various potential integrations, with one eye on the budget and one eye on impact.
To integrate
In the end, most of our focus has been to support a deep integration of the gallery's collection information with the website. We've built an integration with the Axiell EMu collection management system, which makes content objects available for the more than 58,000 works and 27,000 creators available in the admin of the website. We also sync nearly 73,000 images to the website as assets. Both the collection and the images are synced every day. Some of the images are associated with artworks or creators within the AGSA collection, and these are automatically connected to the respective collection record.
This collection integration also allowed us to build a collection search that gives website visitors and researchers the ability to search, browse and discover the items in this vast collection.
This means that the largest information asset at the gallery – its collection – can form the cornerstone of its online presence, which long-term promises to have massive impacts on SEO, the gallery's reputation and, ultimately, visitor numbers.
We'll be writing more in the coming weeks about the collection integration, the search itself, and some of the innovative stuff we've done with images and image editing.
While the collection is the largest and deepest integration we did, we've also done some integrations with Blackbaud's Raiser's Edge NXT constituent relationship management (CRM) product, particularly to sync it with Shopify. We've done some helpful integrations with Shopify that make it easier to integrate with the AGSA website.
GLAMkit: framework evolution and Wagtail CMS
Aside from all this data integration and design work, we've also used this project to evolve our GLAMkit content management framework for museums. We now base our work on the Wagtail CMS, a fast, beautiful, flexible system that is easy for us to develop with and more delightful for our customers to use.
Wagtail provides structured, component-based editing that allows powerful, flexible control over complex content objects, which is a far sturdier paradigm than the rich text editor box that most mainstream CMS users are familiar with. We'll unpack more about Wagtail in future posts as well.
We've added our learning from GLAMkit 2 to this Wagtail base, which has culminated in a range of new features, including:
The collection integration we described above (based on several prior collection integration projects)
A powerful image library, which allows advanced searching (crucial for 73,000 images!), and enables the generation of automated and manual image derivatives
Image editing, which can be accessed directly through the admin
An event scheduling system, which lets content editors create repeating events with exceptions, which is ideal for the complex life of a large gallery
Wagtail also makes it easy to solve a long-standing issue for most cultural organisations – "zombie microsites". Lots of organisations end up with several little websites set up for some specific purpose, such as a special event or festival. These can become awkward to maintain. Wagtail allows us to implement separate sub-sites with their own domain name and distinct branding and design, but with the content managed through the same admin as the main site. We may blog about this in coming weeks too, and explain why zombie microsites are problematic and how to resolve the issues they cause.
Launch outcomes
The AGSA rebuild has been a massive project, spanning many months. The gallery launched the new site just in time for Christmas 2018 and we've kept applying finishing touches over the past few months.
During the time we've been building the main site, we also implemented a new site for the Tarnanthi festival, Australia's largest festival of Aboriginal and Torres Strait Islander art. We also reimplemented the Ramsay Art Prize site as a sub-site of the new website. In the time since we launched the Tarnanthi site, it too has become part of the main site. That's two zombie microsites slain!
AGSA offers a distinctive connection to place, and a dynamic curatorial agenda that creates meaningful art experiences for its diverse audiences. Its vision is to be the inspirational leader for visual arts in South Australia, and to contribute powerfully to culture in Australia and beyond.
We're proud and privileged to have played our part in delivering that vision. We're grateful to our collaborators at Boccalatte, Studio Ongarato, and most especially the many staff at AGSA itself who have sweated blood to make this new digital presence the dynamic, powerful, visionary thing it is.
The new AGSA website. It rocks. Check it out.
End of article.