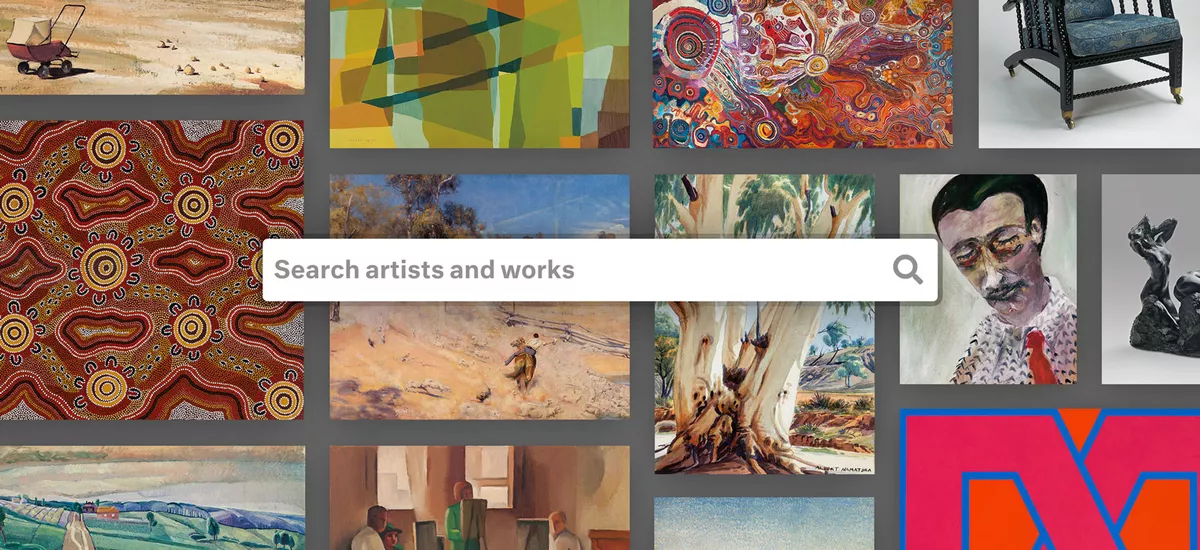 Collection management: optimising collection search for the Art Gallery of South Australia
Written by Fabian McDonald
Published on 6 August 2019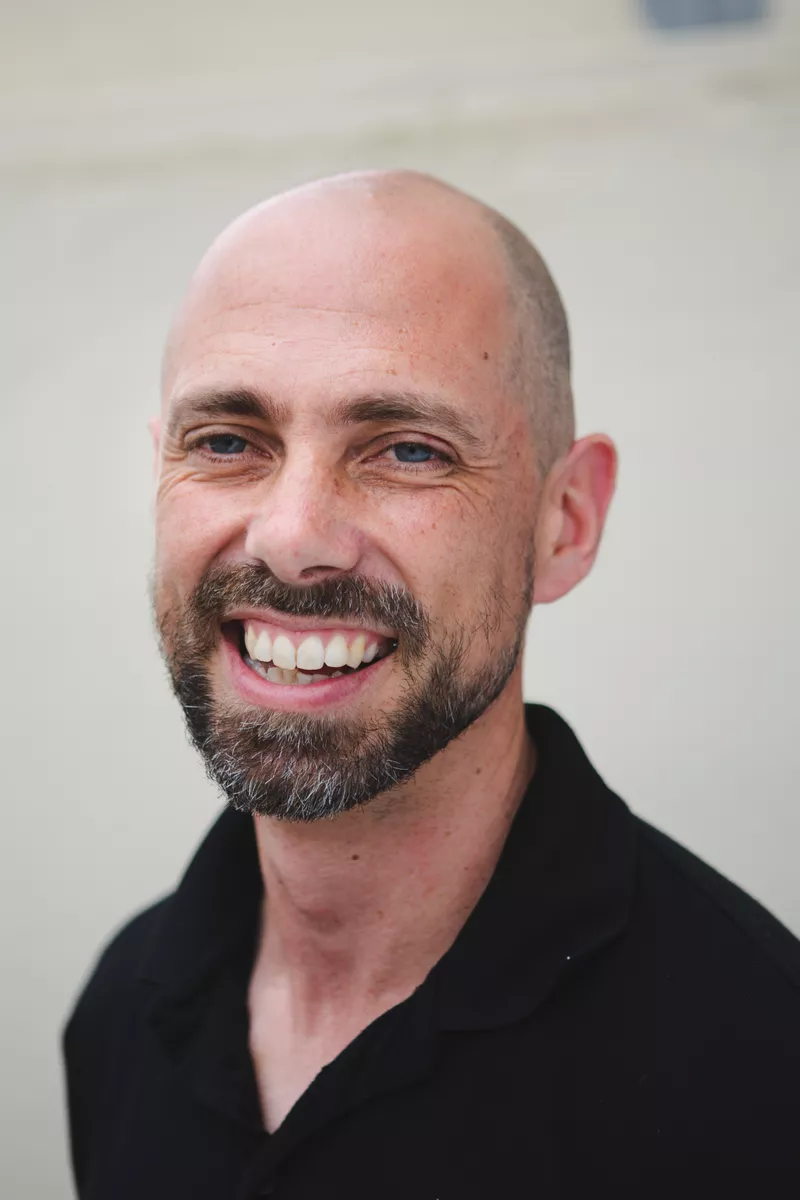 Not long ago we launched the new website for the Art Gallery of South Australia (AGSA). Since launch, we have continued to work with AGSA on their digital transformation project, in particular the online collection search. In that time we have implemented a whole range of features and ironed some of the issues inherent with integrating a complex collection management system with nearly 45,000 works.
So without further delay, let us show off some of the features of the AGSA Online Collection Search!
Simple search with multiple view options
At a basic level, using the online collection search is as simple as typing into a search field that will query all records across multiple data sets: not just name and title but also fields such as collection area, medium, geographical location, year created, accession number and many more.
Artwork and artist records are kept separate, with toggling between them as simple as flicking a switch. Artworks are further divided into those on display in the gallery, with their exact location provided.
Users can also sort results according to various criteria, as well as switch between a grid view or list view, the latter being very useful for researchers who require a bit more detail.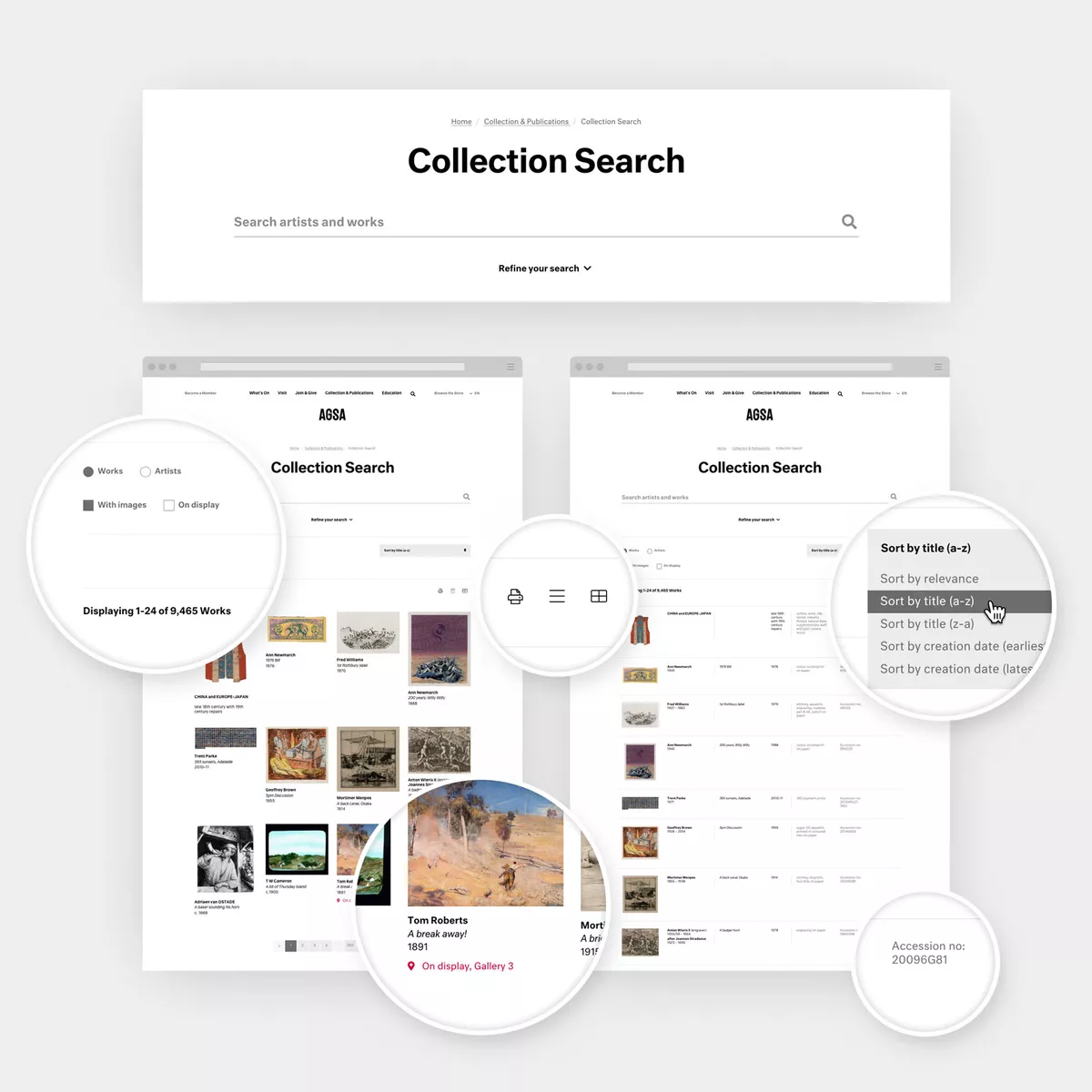 Advanced search for those who want it
Of course, a simple search might not always be enough. For those who really know what they are looking for, there is the possibility of doing an advanced search using a range of specific filters, which can be found under 'Refine your search':
Collection area
Medium/Technique
Artist name
Place made
Earliest/Latest creation year
Year acquired
Accession number
Let's say you're looking for watercolours by the artist Hans Heysen during his years active in Adelaide in the 1890s. Or perhaps you want to see a list of artists from the Alyawarr language group in the Northern Territory (particularly important for AGSA with its significant body of Indigenous Australian artwork). Well, with the new online collection this sort of fine-grain searching is no problem at all.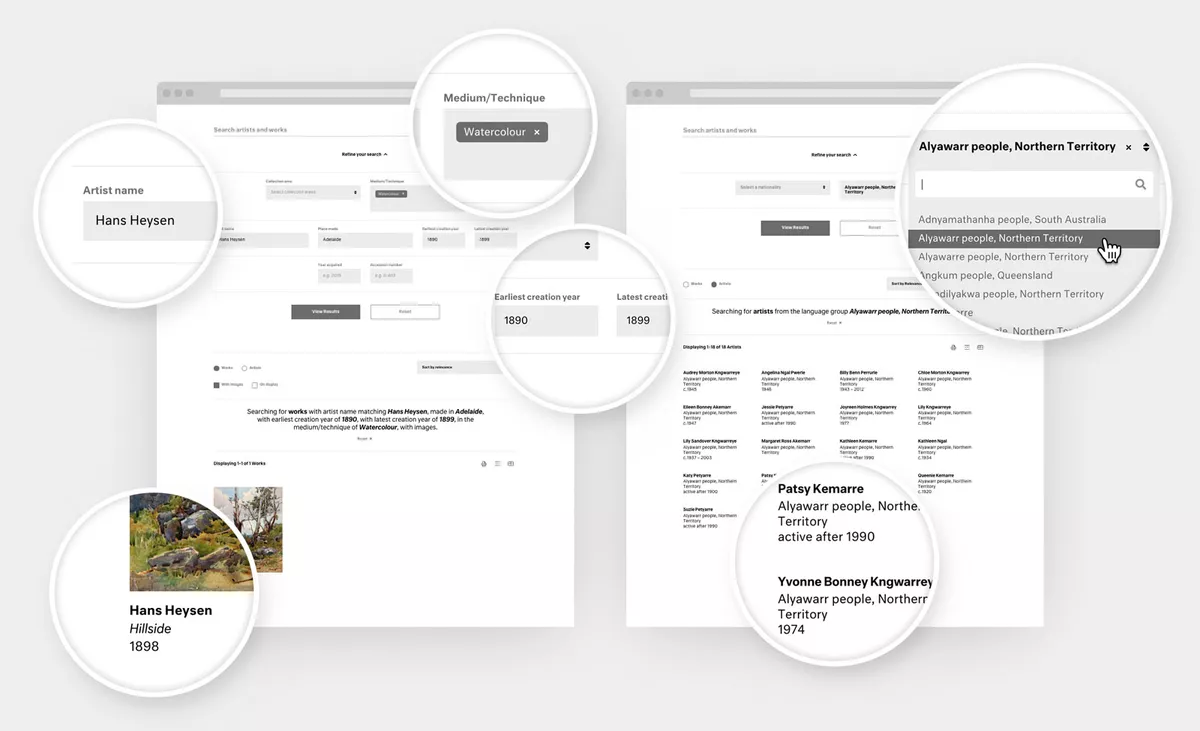 All the details...
Each work of art has its own dedicated page listing all relevant details, as well as being connected to the profile page of the artist if there is one. Images can be opened inside a lightbox that supports multiple files and zoom functionality, perfect for getting up close and personal with the artwork and the artist's technique.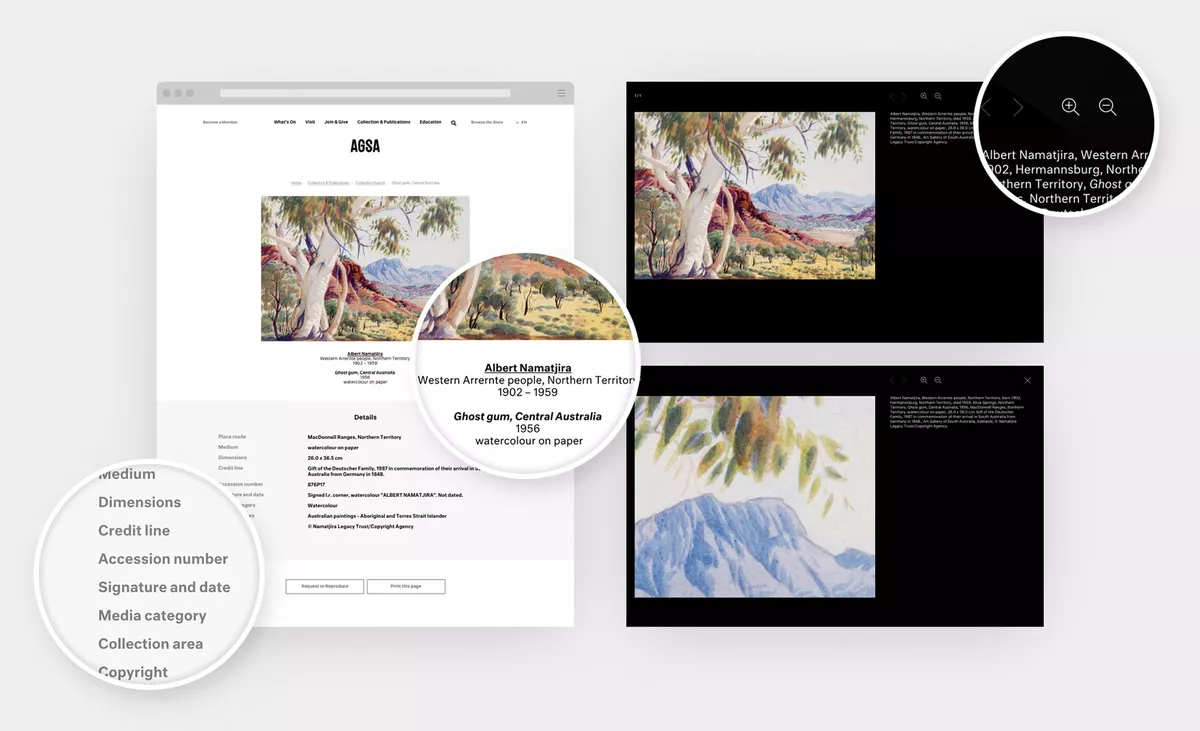 ...and then some
AGSA's curatorial department also have the ability to publish more detailed content for certain works of art, such as relevant essays, a list of exhibitions the artwork has been featured in, a bibliography, and other works if it is part of a series.
Optimised for print
An online collection is an especially useful tool for academics and researchers, and so it was with this in mind that particular attention was given to how pages would display when printed. A hard copy for easy reference is available with a simple click of a button.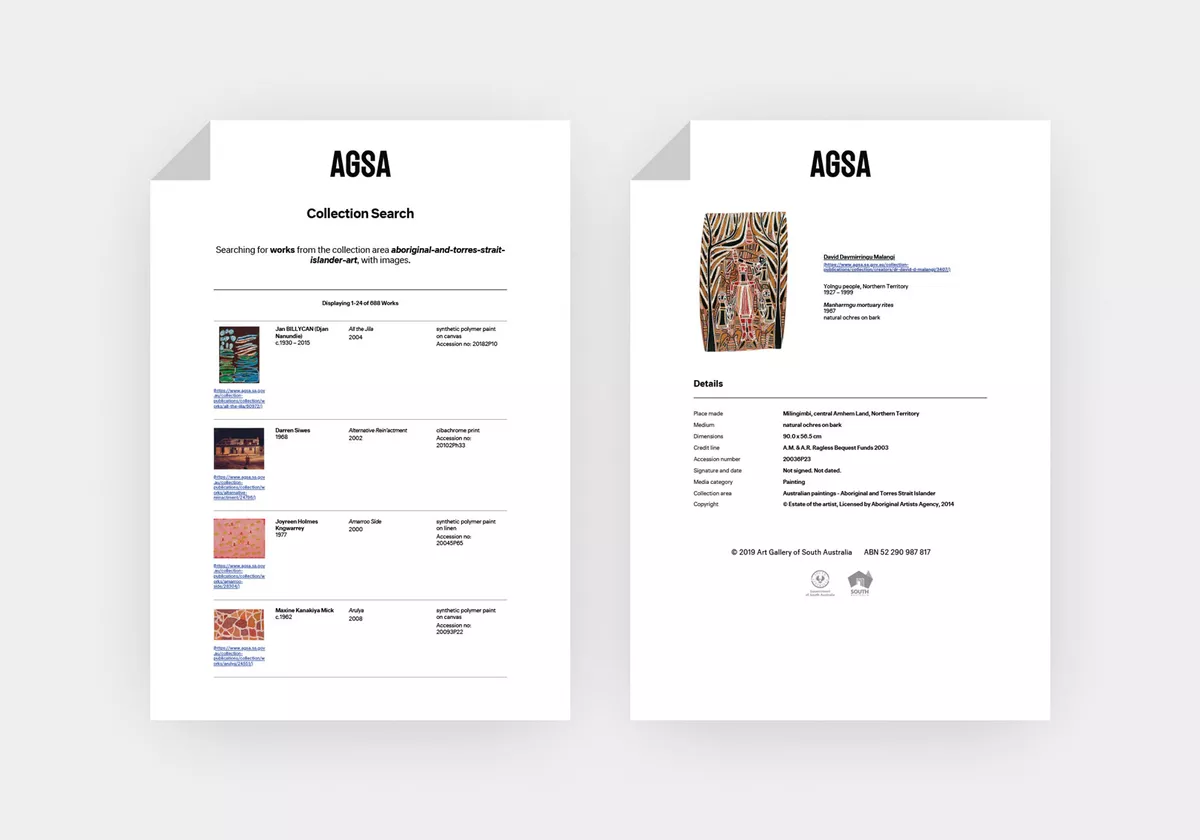 The technical nitty-gritty
Of course, integrating all of this with a sophisticated collection management system such as EMu is not without its challenges. We'll be taking a closer look at some of these related implementations in a series of upcoming blog posts:
For now, we just wanted to show off a little bit! Check out the AGSA Online Collection Search, and stay tuned for more by signing up to the IC's newsletter or follow us on Twitter.
End of article.